Countryside Alarms carries top of the line home and business automation products from addressable control panels and touchscreens to keypad locks and remote annunciators.
Addressable Control Panels
VISTA 21iP Control Panel with GSM Technology and Built-in Internet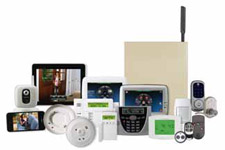 Honeywell's exciting new VISTA-21iP control panel delivers a full communications solution with an integrated Internet Communicator and optional snap-in GSM radio right on board. It provides the same installation advantages, innovative end-user benefits and robust system capacity you've come to expect with VISTA – all in one system! View or download the 21iP data sheet. •  21iP User Manual
LYNX 7000 Control System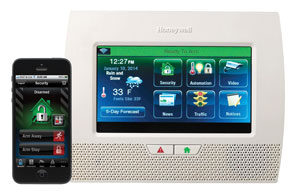 Honeywell's LYNX Touch 7000 control system features a bright, 7″ full-color touchscreen with graphic icons and intuitive prompts for easy operation. It features on-screen video, Z-Wave® automation capabilities, advanced alarm communications, garage door notification and control, tornado alerts for U.S. and Canadian residents, and remote software upgradeability.
LYNX Touch 7000 is designed for broadband cellular communications. The Wi-Fi® module offers the lowest cost alarm communications (including two-way voice) and remote services solution – saving installation time and reducing monthly operating costs. View or download the LYNX 7000 spec sheet.
VISTA Automation Module (VAM)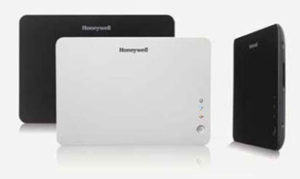 Honeywell's groundbreaking VISTA Automation Module (VAM) provides VISTA users with easy, affordable home and business control on mobile devices. It's an excellent way to reach new prospects by delivering the lifestyle-enhancing services they demand. With millions of VISTA systems already installed, it's an ideal, economical solution for upgrades and retrofits, and the perfect way to differentiate your business and safeguard your accounts. Choose from black or white models to blend with any décor. With Honeywell Total Connect™ Remote Services, users can also view cameras, control their security system, lights, locks and thermostats, and receive event-driven email and video alerts remotely—a great opportunity for additional RMR.
View or download the LYNX 7000 spec sheet.
Remote Annunciators
Honeywell Tuxedo Touch Graphic Touchscreen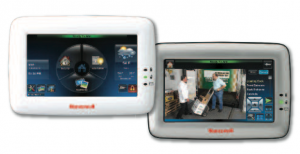 Honeywell's Tuxedo Touch is a 7″, high-resolution graphic touchscreen that functions as an integrated security system, building controller, camera viewer and business communications tool in one. It provides with a cost-effective way to capture new markets by seamlessly integrating security with cameras and Z-Wave® enabled thermostats, lights, locks and shades. Business owners can receive important alerts about events remotely when combined with Total Connect™ Remote Services—a great RMR opportunity. View or download the Tuxedo Touch spec sheet.
Honeywell Voice-Enabled Tuxedo Touch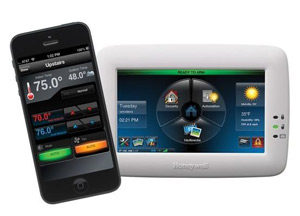 The latest Tuxedo Touch responds to simple speech commands — literally giving your customers' homes a voice and enabling convenient, hands-free operation. By simply saying "Hello Tuxedo"and using select, built-in commands like "Wake Up" or "Bedtime,"your customers can control security, lights, locks and thermostats without having to lift a finger. Plus, it's remotely upgradable — saving you time and money on operational costs!
View or download the Tuxedo Touch brochure.