Honeywell Tuxedo Touch Graphic Touchscreen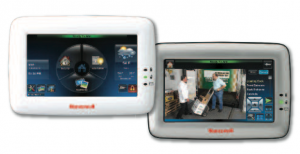 Honeywell's Tuxedo Touch is a 7″, high-resolution graphic touchscreen that functions as an integrated security system, building controller, camera viewer and business communications tool in one. It provides with a cost-effective way to capture new markets by seamlessly integrating security with cameras and Z-Wave® enabled thermostats, lights, locks and shades. Business owners can receive important alerts about events remotely when combined with Total Connect™ Remote Services—a great RMR opportunity. View or download the Tuxedo Touch spec sheet.
Honeywell Voice-Enabled Tuxedo Touch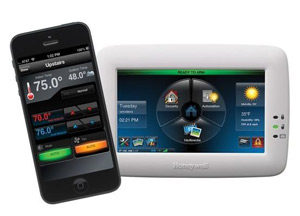 The latest Tuxedo Touch responds to simple speech commands — literally giving your customers' homes a voice and enabling convenient, hands-free operation. By simply saying "Hello Tuxedo"and using select, built-in commands like "Wake Up" or "Bedtime,"your customers can control security, lights, locks and thermostats without having to lift a finger. Plus, it's remotely upgradable — saving you time and money on operational costs!
View or download the Tuxedo Touch brochure.
Honeywell 6460S Designer Keypad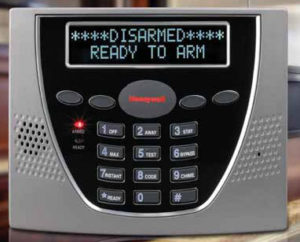 Style meets function with Honeywell's state-of-the-art Custom Alpha Keypads. The sleek, sophisticated keypads look as good as they work — with a choice of silver or white models to suit any décor. What's more, they're easy to use, easy to read and contain a host of convenient features that make security system operation easier than ever. View or download the 6460S spec sheet.     Try out Honeywell's 6460 live demo here.
Honeywell 6160 Alpha Display Keypad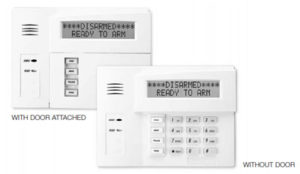 The 6160 Deluxe Keypad is easy to install and simple to use. The attractive white console blends with any décor and features a contoured, removable door that conceals illuminated soft-touch keys. The 6160 also features a new larger and brighter 32-character display with easy-to-read plain English status messages. View or download the 6160 spec sheet.
VISTA 21iP Control Panel with GSM Technology and Built-in Internet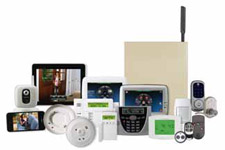 Honeywell's exciting new VISTA-21iP control panel delivers a full communications solution with an integrated Internet Communicator and optional snap-in GSM radio right on board. It provides the same installation advantages, innovative end-user benefits and robust system capacity you've come to expect with VISTA – all in one system! View or download the 21iP data sheet. •  21iP User Manual
LYNX 7000 Control System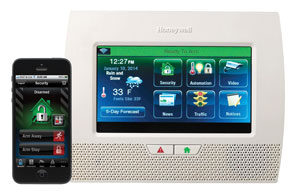 Honeywell's LYNX Touch 7000 control system features a bright, 7″ full-color touchscreen with graphic icons and intuitive prompts for easy operation. It features on-screen video, Z-Wave® automation capabilities, advanced alarm communications, garage door notification and control, tornado alerts for U.S. and Canadian residents, and remote software upgradeability.
LYNX Touch 7000 is designed for broadband cellular communications. The Wi-Fi® module offers the lowest cost alarm communications (including two-way voice) and remote services solution – saving installation time and reducing monthly operating costs. View or download the LYNX 7000 spec sheet.
Aurora PIR Motion Sensor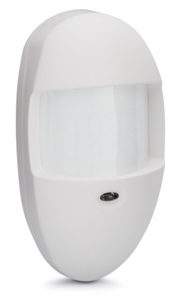 Next-generation Split-Zone Optics and advanced ASIC-based processing give the pet immune Aurora laser-sharp detection.
• Immune to pets up to 40 lbs
• Advanced ASIC-based processing
• Split-Zone Optics technology
• Ultra-low current
• Totally silent relay operation
• Tamper proof design    View or download the Aurora spec sheet.
IS335 Wired PIR Motion Detector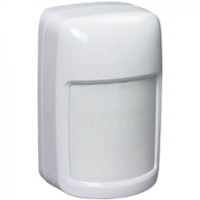 Ideal for all residential applications, Honeywell's IS335 Motion Detector delivers exceptional value and performance while reducing false alarms. Installations are quick and easy—saving you time and money. The IS335 features selectable pet immunity for animals weighing up to 80 lbs, an always-enabled LED, 40 x 56 range and a style that blends with any décor. View or download the IS335 spec sheet.
IS2500SN V-PLEX® PIR Motion Sensor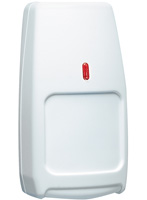 Designed to be used with Honeywell control panels that support V-Plex serial number polling loop devices, Honeywell's IS2500SN is a versatile, feature-rich PIR motion sensor that saves dealers time and money on installations. Automatic walk test saves installers a trip to disable the LED on each unit. Additional benefits include 45° terminal blocks for easy installation, a quicker warm-up time, a panel-initiated walk-test and faster system performance with the Smart Contact mode is critical for video and access control integration. View or download the IS2500SN spec sheet.
5853 Wireless Glassbreak Detector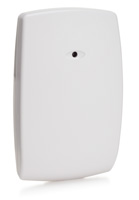 Honeywell's 5853 Wireless Glassbreak Detector offers uncompromised performance and unmatched false alarm immunity. The FlexCore™ signal processor utilizes an Application Specific Integrated Circuit (ASIC)—processing sound data in parallel rather than sequentially. This permits sound frequency, duration and amplitude to be analyzed 50% faster to minimize false alarms while maintaining the highest possible level of detection. The 5853 can be mounted on any wall or ceiling within a 25′ range, with no minimum range limitation. The LEDs indicate test mode, alarms and trouble conditions. It is compatible with all 5800 Series wireless devices. View or download the 5853 spec sheet.
FG-1625F Glassbreak Detector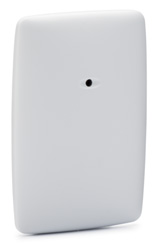 A blend of head-turning style and sophisticated technology, FlexGuard is the industry's most versatile glassbreak detector—the only one to offer a choice of hardwired, wireless or V-Plex® polling loop technology for the ultimate in flexibility. It's no wonder there are millions of FlexGuards protecting homes and businesses worldwide — more than all other glassbreak detectors combined! View or download the FG-1625F spec sheet.
Honeywell 997 Ceiling Mount Motion Sensor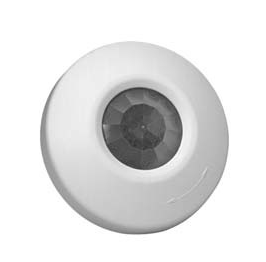 Honeywell's 997 Ceiling Mount PIR (passive infrared) Motion Sensor is designed to be mounted in small to medium sized rooms between 8′ and 12′ high. Optimal performance is achieved when the detector is mounted on the ceiling in the center of the protected area. While a single 997 is ideal for sensing motion in rooms up to 30′ x 30′, multiple detectors are recommended when protecting larger areas like classrooms, meeting rooms, public lobbies and storage areas.
Mounting the detector on the ceiling helps minimize vandalism and tampering—making it especially effective in public areas such as schools and retail establishments. The compact, discrete size makes it a nearly invisible way to  detect motion, so it will not detract from the style or architecture of the protected area. View or download the 997 spec sheet.
Magnetic Contacts 958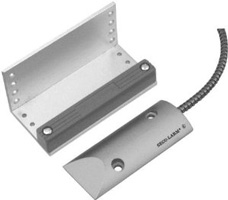 Overhead Door Magnetic Contact
 Adjustable magnet with L bracket
 24″ (61cm) armored cable is standard
 Standard gap: 2-3/8″ (60 mm) minimum
 Epoxy sealed for protection from moisture and impact
 Rugged "Shock Absorber" design protects reed against flex or damage to housing  View or download the 958 spec sheet.
Honeywell 5818 Concealed Door Transmitter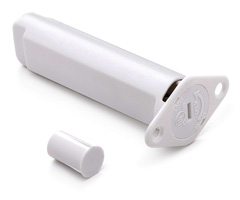 Honeywell's 5818MNL Recessed Door/Window Transmitter is a magnetic contact sensor that provides concealed protection for doors or windows. With its tapered design and at nearly half the size of standard transmitters, the 5818MNL is another example of how Honeywell's wireless technology is continually evolving to meet customer needs. View or download the 5818 spec sheet.
7847i Internet Connection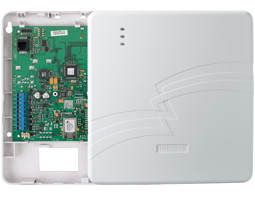 Honeywell's 7847i Series is the next generation family of IP Communicators designed to meet today's demand for viable communication alternatives. The 7847i delivers highly secure, reliable, Internet communication of alarm data while the 7847i-E is suitable for enterprise private network applications using local LAN or point to point connections. Internet signals are delivered to Honeywell's AlarmNet® Network Control Center, which routes the information to the appropriate central station. The state of the art AlarmNet Network Control Center is fully redundant and monitored 24/7. AlarmNet has the ability to route messages providing true redundancy and multi-path message delivery. View or download the 7847i spec sheet.
VISTA-GSM4G AT&T Cell Connection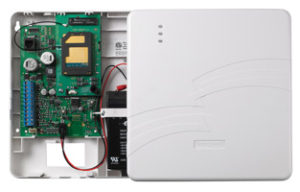 Honeywell is focused on providing the best alarm communication solutions for the security industry. Alternative communication methods are critical in the marketplace due to VoIP, migration from POTS and global growth of digital networks. Transmission Protocols Honeywell's IntelliPath™ Series communicators provide seamless, reliable coverage by automatically choosing the best signal in the area (whether 2G, 3G or 4G) and self-adjusting as necessary. View or download the GSM4G spec sheet.
CDMA-X Verizon Cell Connection
Honeywell is focused on providing the best alarm communication solutions for the security industry. Alternative communication methods are critical in the marketplace due to VoIP, migration from POTS and global growth of digital networks. The CDMA-X Communicator easily connects to Honeywell's VISTA® control panel and sends alarms and messages to AlarmNet® for subsequent transfer to the central monitoring station. It can be mounted directly on the control panel or remotely. This communicator uses CDMA (Code Division Multiple Access) technology for faster data transfers with lower latency (response time). Together, this results in speedier data transfers. View or down the CDMA-X spec sheet.
Honeywell 5870API Asset Protection Device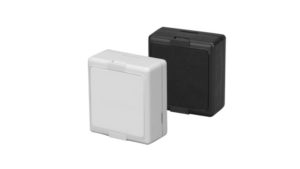 Honeywell's 5870API is a wireless asset protection device designed to guard against theft. It easily affixes to any valuable requiring protection within a home or business, including paintings, flat screens and other electronics, family heirlooms, safes, machinery, equipment and more. The 5870API is an ideal solution for early warning notification or alarm verification.
The 5870API uses patented Micro-Electro-Mechanical System (MEMS) Accelerometer technology, which senses acceleration in the X and Y axis. When affixed to the protected asset, the device will trigger a "detect" if an attempt is made to move or disturb the asset.
The 5870API is intended for use with Honeywell alarm systems that support 5800 Series wireless devices. The transmitter is fully supervised and can send alarm, tamper, trouble and low battery conditions to the alarm control panel. View or download the 5870API spec sheet.