Honeywell Control Panels
VISTA 21iP – VISTA Control Panel with GSM Technology and Built-in Internet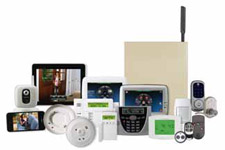 Honeywell's exciting new VISTA-21iP control panel delivers a full communications solution with an integrated Internet Communicator and optional snap-in GSM radio right on board. It provides the same installation advantages, innovative end-user benefits and robust system capacity you've come to expect with VISTA – all in one system! View or download the 21iP data sheet. •  21iP User Manual
VISTA 128BPT – Commercial Burglary Partitioned Security System with Scheduling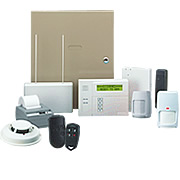 The VISTA-128BPT is a powerful member of the Honeywell family of commercial alarm panels, integrating burglary, CCTV and access control functions. Many features are available that extend the applications of the VISTA-128BPT while simplifying end-user operation. It is listed for residential burglary, residential fire and commercial burglary applications, and is compatible with a wide range of AlarmNet communications products for alarm reporting, uploading /downloading and remote services. View or download the 128BPT User Manual.
System Sensor 2W-B – Photoelectric i3 Smoke Detector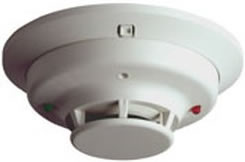 System Sensor's i3 series Photoelectric Smoke Detector, a 2-wire plug in smoke detector that represents a significant advancement in conventional detection. The i3 family is founded on three principles: Installation ease, Intelligence, and Instant inspection. View or download the 2W-B spec sheet.
Honeywell 5193SD/5193SDT V-PLEX® Addressable Smoke Detector
Honeywell's 5193SD/SDT Addressable Photoelectric Smoke Detector is designed to provide open area protection and to be used with compatible UL-listed Honeywell control panels that support V-Plex technology. The detector incorporates a state-of-the-art optical sensing chamber and an advanced microprocessor. The 5193SDT also features a restorable, built-in, fixed temperature (135° F/57.2° C) thermal detector. View or download the 5193SD spec sheet.
System Sensor CO1224T Carbon Monoxide Detector with RealTest™ Technology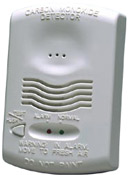 The System Sensor CO1224T CO detector provides early warning by using electrochemical sensing technology to measure carbon monoxide levels in the air. View or download the CO1224T spec sheet.