Honeywell Control Panels
VISTA 21iP – VISTA Control Panel with GSM Technology and Built-in Internet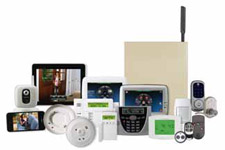 Honeywell's exciting new VISTA-21iP control panel delivers a full communications solution with an integrated Internet Communicator and optional snap-in GSM radio right on board. It provides the same installation advantages, innovative end-user benefits and robust system capacity you've come to expect with VISTA – all in one system! View or download the 21iP data sheet. •  21iP User Manual
VISTA 128BPT – Commercial Burglary Partitioned Security System with Scheduling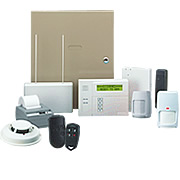 The VISTA-128BPT is a powerful member of the Honeywell family of commercial alarm panels, integrating burglary, CCTV and access control functions. Many features are available that extend the applications of the VISTA-128BPT while simplifying end-user operation. It is listed for residential burglary, residential fire and commercial burglary applications, and is compatible with a wide range of AlarmNet communications products for alarm reporting, uploading /downloading and remote services. View or download the 128BPT User Manual.
System Sensor 2W-B – Photoelectric i3 Smoke Detector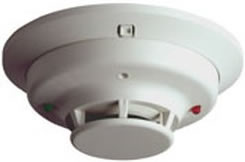 System Sensor's i3 series Photoelectric Smoke Detector, a 2-wire plug in smoke detector that represents a significant advancement in conventional detection. The i3 family is founded on three principles: Installation ease, Intelligence, and Instant inspection. View or download the 2W-B spec sheet.
Honeywell 5193SD/5193SDT V-PLEX® Addressable Smoke Detector
Honeywell's 5193SD/SDT Addressable Photoelectric Smoke Detector is designed to provide open area protection and to be used with compatible UL-listed Honeywell control panels that support V-Plex technology. The detector incorporates a state-of-the-art optical sensing chamber and an advanced microprocessor. The 5193SDT also features a restorable, built-in, fixed temperature (135° F/57.2° C) thermal detector. View or download the 5193SD spec sheet.
System Sensor CO1224T Carbon Monoxide Detector with RealTest™ Technology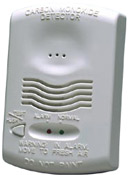 The System Sensor CO1224T CO detector provides early warning by using electrochemical sensing technology to measure carbon monoxide levels in the air. View or download the CO1224T spec sheet.
Honeywell 5800CO – Carbon Monoxide Detector with built-in wireless transmitter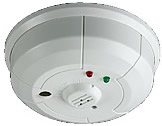 The 5800CO is designed to provide early warning to the user well before the CO reaches a fatal level. The detector's CO sensitivity is evaluated to UL 2034 code standards. The 5800CO is powered by a 3V battery.
The 5800CO is specifically designed for system operation and is fully listed to UL 2075 as a system supervised detector.* It contains a piezoelectric horn which generates the ANSI S3.41 temporal 4 pattern in an alarm condition.
The detector consists of an electrochemical carbon monoxide sensor assembly coupled with a wireless transmitter. The transmitter can send alarm, trouble, end-of-life, tamper and low battery condition messages to the alarm panel. View or download the 5800CO spec sheet.
Honeywell 5808W3 – Photoelectric Smoke/Heat Detector w/ Built-in Wireless Transmitter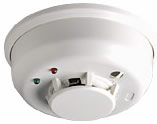 Honeywell's 5808W3 is a 3V lithium powered, photoelectric smoke/heat detector with a built-in wireless transmitter. Its built-in, fixed temperature (135°F) thermal detector is capable of sensing a pre-freeze condition if the temperature is below 41°F. The wireless transmitter can send alarm, tamper, maintenance, and battery condition messages to the system's receiver. View or download the 5808W3 spec sheet.
Edwards C280 Fire Heat Detectors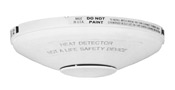 The 280B-PL Series heat detectors offer fixed temperature or combination rate-of-rise and fixed temperature features. View or download the C280 spec sheet.
Gentex GX93 12/24VDC Low Current Mini-Horn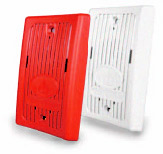 The GX91/GX93 Series mini-horn is a high quality remote signaling appliance that offers dependable remote annunciation. The GX93 is listed for use with both filtered and unfiltered power.  View or download the GX93 spec sheet.